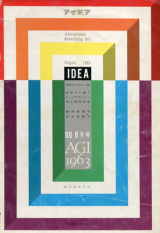 Seibundo Shinkisha Publishing Co. Ltd.
JP, 1963
codice aiap: FAM-GRri258
Biblioteca/Fondo Alfredo Mastellaro. Brossura, formato 22,5 x 29,7 cm, immagini b/n e colori.
Aa. Vv.
Rivista Idea
International Advertisign Art - n. 60 Agosto 1963

---
Copertina di Hiroshi Ohci

Indice:
The 10th Commemoration Special Issue: Special portfolio of the world top level 72 designer′s works (from the members of the AGI).
---
Si trova in:
Ricerca
---
Ricerca avanzata
---
Aiap
via Ponchielli, 3
20129 Milano

Cerca: