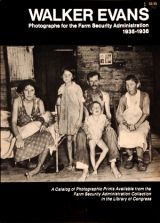 Da capo Press
US, 1975
isbn: 0-306-8000-X
codice aiap: FMB-FOC002
Fondo Biassoni. Brossura, pp. 260 circa, immagini in b/n.
Walker Evans
Walker Evans - Photographs for the Farm Security Administration 1935 - 1938
A catalog of fotographic prints available from the Farm Security Administration Collection in the Library of Congress

---
Repertorio di immagini fotografiche catalogate dall'ammministrazione della sicurezza nelle fattorie del nord america (anni 30-40).
---
Si trova in:
Ricerca
---
Ricerca avanzata
---
Aiap
via Ponchielli, 3
20129 Milano

Cerca: